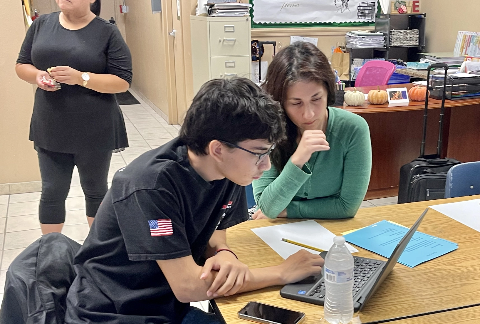 Our East Campus is filled with a diverse group of students and wonderful, passionate teachers. We are K-12, and would love the opportunity to meet you and your child! Click here to schedule a tour of the East Campus!
Meet Our Principal
Principal Larry Speta
From Marine to School Principal
Larry Speta spent twenty-six years in the Marine Corps before deciding what his next career was going to be. While in the Marines the "teacher bug" bit Mr. Speta. He decided after a tour as an instructor for Naval Aviation Maintenance and as an adjunct instructor for the Park College Unit Deployment Program that teaching science would be his future career.
While he was a science teacher at his first school, he was drafted into school administration by his then principal as the middle school's lead teacher, then as assistant principal. This is when Mr. Speta decided to pursue his principal's certification. He attained his first Masters degree from the University Of Phoenix in Educational Leadership, then a second Masters from the University of Concordia in Curriculum and Instruction majoring in Math and Science. Mr. Speta has been a successful principal at four different schools before coming to TIA.
Growing Up
Mr. Speta is a native New Yorker, where he and his five siblings, four brothers and a sister, were all raised by his mother. He learned his work ethic from her. She often held two or three jobs while going through nursing school and inspired Mr. Speta's work ethic. He started working at the age of fourteen at a veterinary clinic and contributes this along with his mother's choice to become a nurse and natural curiosity, for his love of the natural sciences.
While growing up he attended four middle schools and three high schools before attaining his high school diploma a year early in order to enlist in the Marine Corps.
In the Marines
While in the Marine Corps, Mr. Speta held numerous military occupational specialties, his last one being an Aircraft Maintenance Chief. He can honestly say that his feet have touched the ground of all of the continents, including Antarctica, during his years of service with the Marines. It was while in the Marines that he married his wife, Darlene, who "maintained the house" for the family while he was deployed.
Coming to Tucson
When Mr. Speta decided to retire from the Marines, he was unsure where to retire. He threw three darts on a map of the United States, the third dart landed near Tucson, which was where he and his wife decided to move their family to in order to pursue his new career in education. Mr. Septa asked to join the Tucson International Academy team after meeting Dr. "J" and her husband, Mr. Herrera, and seeing the dream TIA represents for its students.
Meet Our Staff and Teachers
Jocelyn Manzanarez (Ms. Jocelyn)
Music Teacher
As a music specialist, I am honored to provide children at Tucson International Academy the opportunity to experience all of the benefits music education offers.  I received my BA from the University of Montana in Music Education and MA in Music Education from the University of Washington. I hold a certification as a k-12 certified music educator. 
The unique piece about teaching music at TIA is that the classes are virtual and I am teaching from my office in Seattle, Washington! In our weekly musical classes we play instruments, sing, dance and most of all have fun learning through music. I feel so lucky to be a part of this amazing community of learners.
Virginia Rodriguez (Ms. Virginia)
Teacher – Grades 2-3-4
I am the teacher for 2, 3, 4 at TIA East. I went to school at Pima Community College. Previously, I was also a former TIA student. I love to travel and see new places. In fact, my first international trip was to China with TIA. Before working at TIA, I worked in business management. I enjoy spending time with my children and spending time with close friends and family. I am looking forward to growing with TIA for many more years to come.
Monique Canez (Ms. Monique)
Teacher – Grades K-1
I graduated from Grand Canyon University with a major in Early Childhood Education. I went to TIA since 3rd grade and had an amazing experience, therefore I wanted to come back and teach at TIA to make an amazing experience for my students, which I plan on doing with a lot of hands-on activities! I cannot wait to get to know each one of my students!
Rubina Herrera (Ms. Ruby)
Teacher – Grades 5-6
I am from Tucson, AZ, and am teaching at TIA East as the 5th – 6th-grade teacher. I graduated from Grand Canyon University with a bachelor's degree in Elementary Education. I love going on adventures and am a huge animal lover. Before going to college, I attended TIA Broadway from Grades K-4, then I graduated from TIA West campus. I have always loved kids and helping them. Teaching is one of my passions and I am so excited to get to know everyone. I believe that all classrooms should be a safe environment where students feel free to talk about certain appropriate topics with one another and to have fun while learning. I expect that my students and parents will be involved throughout the academic year and to participate in activities I will provide. Although COVID is here, I do plan on making this year a really fun time for my students to enjoy.
Click to view or download Ms. Ruby's May 23 Spring School Newsletter
Mark Narreto (Mr. Mark)
Teacher – 7-12 ELA & Social Studies
"A Journey of a Thousand Miles begins with a Single Step." – Lao Tzu
I always believe that education is a never-ending voyage. It is a right, not a privilege. And it takes one's courage and commitment to dream and make it happen.
Madayaw! I am Teacher Markee Narreto and I came all the way from the Southern part of the Philippines — Mindanao. I graduated with a degree of Bachelor of Arts in Mass Communication and took up Bachelor of Secondary Education in English. I am a journalist and educator by profession. For fifteen years, I have been teaching in many colleges and universities in my home country while working in a broadcast network at the same time.
For six years, I have had the chance to work with the Department of Education, teaching Senior High School learners specializing in Literary Arts, Media Communication, and Theatrical Production.
My penchant for teaching has made me so engrossed and feel invested with my craft. It is what keeps my motor rolling and expand my horizon to inspire more learners overseas.
I am an actor, writer, filmmaker, and mover.
I am looking forward to having you in my class as we engage, explore and experience ELA and Social Studies together!
Harinawa!
William Chambers (Mr. Chambers)
Teacher – Grades 7-12 Math & Science
I teach Math and Science for grades 6-12, and I have been a teacher for over 25 years. I have taught in Mexico, Gabon West Africa, Trinidad and Tobago, Spain, and Peru. I have enjoyed being a teacher and consider myself lucky to have traveled doing my job. I graduated with a B. S. in GeoScience from the University of Arizona, as well as an MS from South eastern Florida University in Curriculum Instruction and Technology. I also have over 70 semester hours in professional development classes. As a military dependent, I have been traveling for most of my life and have been to six of the seven continents and look forward to the day I will be able to go to Antarctica. I consider myself to be lucky to be a teacher. "Every truth has four corners. As a teacher, I give you one corner and it is for you to find the other three." – Confucius
Xiuqing Sun (Ms. Sun)
Chinese Teacher – All Grades & Campuses
I went to China Communication University and have a degree in Media Management. In China, I taught Chinese to foreigners before I moved to the U.S. I've been teaching Chinese at TIA since 2012. I have traveled to Thailand, Japan, Korea, China, and around the U.S. I cannot give a direct translation, but my favorite quote is something like this; "If I walk with two other people, I can learn from at least one of them." It shows humility and the willingness to learn from different people, regardless of their age, background, or beliefs.
April Reidy (Ms. April)
Special Ed
I was born in Anchorage, Alaska as an Air Force brat but, I moved to Tucson when I was 13 years old. I have an MA in special education and a graduate certificate in Applied Behavior Analysis, all from U of A. My husband is from New Zealand, so we do a lot of traveling. My son is in the Navy stationed in Japan and My daughter is a sophomore in high school. When not working, I am playing with my three big fuzzy fur babies or drinking Starbucks.
Ripley
Ms. April's Special Service Therapy Dog
"Ripley" is a seven-year-old golden retriever. She has been working in public schools for the last five years. Ripley has been trained both as a service animal and a therapy animal. When she is not in school she visits friends in hospice care. She really enjoys running, playing, and especially swimming with her other two fuzzy sisters at home.
Average Teacher Salary
Average Teacher Salary FY24: $31,375.00
Average Teacher Salary FY23: $41,733.33
Average Decrease: $10,358.33
Percentage Decrease: 24.82%