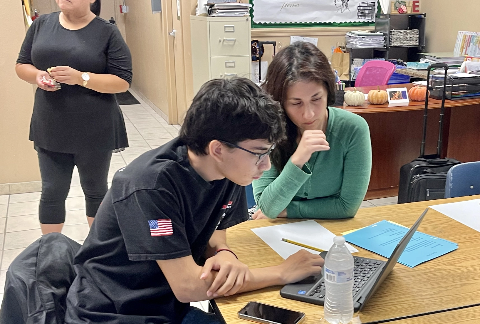 Tucson International Academy (also known as the Main Campus) is a K-12 school dedicated to helping your child succeed! We believe every child is born to learn and would love to meet you and your child.
Meet Our Principal
Principal Philip Trejo
Teaching, Turnaround, and Tucson
Mr. Trejo grew up in Pueblo, Colorado. His father was a first-generation immigrant from Mexico, and his mom was of Scottish descent. Even though his parents never graduated college, they ensured that Mr. Trejo and his two younger brothers would. All three boys earned bachelor's degrees, and their children have as well.
Growing Up
Growing up, Mr. Trejo's own public school experiences were less than great. He attended low-performing schools and had teachers that didn't seem to care, had low expectations for students, and judged them based on their zip code and circumstances. Yet, there were a few that were different; they cared and were powerful, positive role models. Those few left a lasting impression on Mr. Trejo and imprinted the dream of being like them, a teacher who makes a difference, challenges, and supports students in moving towards their potential.
Professional Career
BS from Colorado State University-Pueblo in Physical Education
MS from the University of Nebraska at Omaha in Educational Administration and Supervision
Additional Graduate work and additional endorsement Special Education Generalist from Regis University Denver
40-hour Transformative Leadership, U.S. Air Force Academy National Principals Academy
Fellowship (Colorado Department of Education Turnaround Leadership Development)
Mr. Trejo has served in education for over 20 years. His professional experience includes teaching and leadership roles from PreK to higher education. The diversity of roles has been his drive to make a positive impact and a change agent in whatever role he has had.
Quality Education
For Mr. Trejo, it is a moral imperative that first, all students have access to quality education and, secondly, experience success at the highest level possible. This desire led to Mr. Trejo to specialize in school improvement and transformation. Mr. Trejo has been a part of transforming some of the lowest-performing schools in various states into schools that became known for high student growth and achievement levels. Mr. Trejo presented at several national conferences on Equity, Academic Resiliency, and Student Support Programming through his school improvement work. "It is an honor to join the TIA team and serve the students, families, and staff of TIA. I have the privilege and responsibility to build upon the great work done by so many before me here at TIA. I am excited about what we will achieve together moving forward."
Meet Our Staff and Teachers
Jocelyn Manzanarez (Ms. Jocelyn)
Music Teacher
As a music specialist, I am honored to provide children at Tucson International Academy the opportunity to experience all of the benefits music education offers.  I received my BA from the University of Montana in Music Education and MA in Music Education from the University of Washington. I hold a certification as a k-12 certified music educator. 
The unique piece about teaching music at TIA is that the classes are virtual and I am teaching from my office in Seattle, Washington! In our weekly musical classes we play instruments, sing, dance and most of all have fun learning through music. I feel so lucky to be a part of this amazing community of learners.
Carla Cash (Ms. Cash)
Teacher – Grades K, 1, 2
As an educator, my top priority is the best way to communicate the new concepts your student will learn. I was born in Nogales, Sonora Mexico and immigrated to the United States when I was 7. I am very proud of being Mexican and equally proud of living in this great country. Teaching is something I have always wanted to do, for me it is not only a profession but a passion. I have taught for 20 years, 10 of which I taught Kindergarten in Euless, Texas. When I moved to Tucson, I found a dynamic school Tucson International Academy, which not only had high academic standards but a rich sense of community. Academically, I started at Northern Arizona University but completed my degree online. I taught Kindergarten for 10 years at Metroplex Academy, from 1997 – 2007. When I learned that my youngest son had autism in 2009, I moved to Tucson, Arizona. I taught at Tucson International Academy West for 11 years, teaching Kindergarten and 1st Grade. Thank you for entrusting me with your students.
Mithel D. Saladaga (Ms. Myt)
Teacher – Grades 3, 4 & 5
I knew that I wanted to be a teacher from an early age. I was inspired by my elementary teachers who wholeheartedly gave their all just for us to learn. From then on, I promised myself that I would be someone who would advocate for the welfare of every student that I meet.
I am Mithel D. Saladaga, a licensed professional teacher from the Philippines. I am a proud working student scholar who graduated with a Latin honor at Central Philippine Adventist College with a Bachelor's degree in Elementary Education – Generalist. I also have completed a one year course within the Bachelor's of Science in Information Technology at Bukidnon State University. Right after graduation, I was hired by my alma mater to become one of their faculty. I am fortunate to have worked with many seasoned professors who inspired and pushed me to become the best version of myself. Within a span of five years, I taught elementary, middle school, and college classes in the same institution that had equipped me professionally. I am passionate about teaching all subjects in all grade levels, and I enjoy incorporating technology into my classes.
I believe that understanding students' learning styles is one of the most important things in teaching and learning because when students are comfortable, they learn the best. Molding young minds to become better versions of themselves is greatly fulfilling for me. It brings me joy and happiness to see every child grow and mature in all aspects of life under my care, and what is much more rewarding is seeing them succeed in any endeavor they pursue in the future.
Teaching in such a diverse culture as TIA, which also puts an emphasis on relationships and not just academic excellence, is an opportunity for me to influence and inspire children from many different walks of life. Let's make this school year fun and memorable. Blessings!
Jennifer Tibayan (Ms. Jen)
Teacher – Grades 6, 7 Science, English, Math & Social Studies
It's been my childhood dream to be a teacher. I've always wanted to be a part of things that promote greater causes and meaning. I just felt like being part of the educational institution would help me live a life of more significance because education is about connecting and learning with other people. True enough, being a teacher has changed my life, and I love every experience it brings. I have a Master's degree in Educational Management, and I taught elementary and middle school classes for 5 years in one of the international schools in the Philippines. I also had a 2-year teaching experience at a university. I handled professional education courses for the pre-service teachers.
I firmly believe that every student has a great potential to succeed. We just need to be effective instruments so they can also discover and hone their skills and talents. I am looking forward to a remarkable academic year with the TIA family. I am excited to learn and have fun with all the students.
Xiuqing Sun (Ms. Sun)
Chinese Teacher - All Grades & Campuses
I went to China Communication University and have a degree in Media Management. In China, I taught Chinese to foreigners before I moved to the U.S. I've been teaching Chinese at TIA since 2012. I have traveled to Thailand, Japan, Korea, China, and around the U.S. I cannot give a direct translation, but my favorite quote is something like this; "If I walk with two other people, I can learn from at least one of them." It shows humility and the willingness to learn from different people, regardless of their age, background, or beliefs.
April Reidy (Ms. April)
Special Ed
I was born in Anchorage, Alaska as an Air Force brat but, I moved to Tucson when I was 13 years old. I have an MA in special education and a graduate certificate in Applied Behavior Analysis, all from U of A. My husband is from New Zealand, so we do a lot of traveling. My son is in the Navy stationed in Japan and My daughter is a sophomore in high school. When not working, I am playing with my three big fuzzy fur babies or drinking Starbucks.
Ripley
Ms. April's Special Service Therapy Dog
"Ripley" is a seven-year-old golden retriever. She has been working in public schools for the last five years. Ripley has been trained both as a service animal and a therapy animal. When she is not in school she visits friends in hospice care. She really enjoys running, playing, and especially swimming with her other two fuzzy sisters at home.
Bregida Hibaya (Ms. Bridge)
High School Science & Math
Mabuhay! I am Bregida from the Philippines. My colleagues, friends, and students call me "Ms. Bridge" (over troubled waters). My name aptly describes my mission of providing my students with opportunities for growth and self-discovery so that they may find their school a safe and engaging place to learn. I have completed my Master of Science in Science Education in 2017 from the University of Science and Technology of Southern Philippines. My more than twenty years of experience as a classroom teacher have equipped my head and heart to go beyond the minimum expectations and reach out to students and parents so that together we can make a difficult task achievable.
Rosanna Permijo (Ms. Ross)
High School ELA/Social Studies
As individuals, I believe that we learn from experiences that shape who we are. I am Ms.Rosanna P. Permijo, 27 years old, and you can call me Ross. As an educator, education has always been my top priority because my parents always stressed the importance of obtaining an education because they had missed out on that opportunity. They emphasized the importance of education in achieving life success. That was by far the most important lesson I learned when I was in college. I was a working student-athlete during my college days, and I received a full-ride athletic scholarship from my school and my sponsor. When I stepped into college, I promised myself that I would not waste time or opportunity to graduate because my success was determined by people who helped, supported, believed, and trusted in my ability to graduate, despite the obstacles that I faced in life. I struggled at first to balance everything: my training schedule, my job as a salesperson at the mall, and traveling between classes. But I imprinted on my mind and heart that I had scholarship responsibilities and that I needed to demonstrate that my focus was not only on sports or extracurriculars but also on my studies. In addition to this, one of my hopes back then was that I would be with my parents and take them on stage to dedicate my honor to them and to all those who helped and supported me, as well as to those who doubted my ability to become an educator.
In March 2013, I graduated with a Bachelor of Science in Information Technology and immediately enrolled in another degree course in Education. I graduated from Maryhill College, Inc. in March 2017 with a Bachelor of Secondary Education degree in ValuesEducation and was immediately hired at a Catholic private school. I've been teaching for over six years, with the majority of my time spent in high school. Following that, I completed my academic requirements for the Master of Arts with a major in Religious Education from St. Paul University Manila in May 2020, believing that teachers should be life-long learners.
As one of my favorite verses in Proverbs 16:3 says: "Trust in the Lord in all things, and he will establish your plans." So, by the grace of God, I graduated from school full of effort, gratitude, perseverance, and dreams.
This year, under the guidance and mentorship of Mr. Philip O. Trejo and my co-teachers, I look forward to making a difference in the lives of the students I meet along the way, believing that every child deserves the best education possible. Because then, I can consider myself a successful teacher if my students reach their full potential. So my goal is to combine my experience with my ability to be a compassionate, cheerful, and passionate teacher who will positively contribute to TIA.
Average Teacher Salary
Average Teacher Salary FY24: $31,888.89
Average Teacher Salary FY23: $44,307.69
Average Decrease: $12,418.80
Percentage Decrease: 28.02%