At Tucson International Academy, we believe every child deserves the opportunity to build a better future for themselves and their families.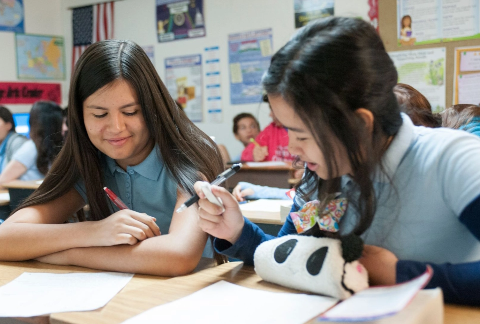 We understand that choosing where your child goes to school is a huge decision. As a charter school, we are designed to fit your child's needs. We offer a unique learning environment unlike other public or private schools by having more freedom and flexibility in our students' learning.
We are proud to serve diverse communities and strive to ensure a reality where attending college is possible.
Culturally Relevant
We embrace our students' cultures and work within them. Understanding the aspects of the different backgrounds of our students allows us to help them and their families have the tools to excel and achieve their dreams.
Unapologetically Encouraging
We recognize that no student is the same. We always uplift and encourage each of our students to have the confidence to pursue their dreams.
Relentlessly Supportive
We want every student to have the tools to achieve all of their goals. We ensure that our entire community knows we care and support them..
Fiercely Independent
Our job is to teach our students how to think and not what to think. We believe in education, not indoctrination. We want our students to gain the ability to advocate for themselves.
At TIA, we believe parents and teachers must work together to help our students succeed. Though our roles often intersect, we are not a replacement for parents. Our job is to empower students with the skill set to be world changers.
Direct your request for Arizona public records to Ms. Canez via email at [email protected] or call (520) 792-3255