WE MAKE COLLEGE COME TRUE!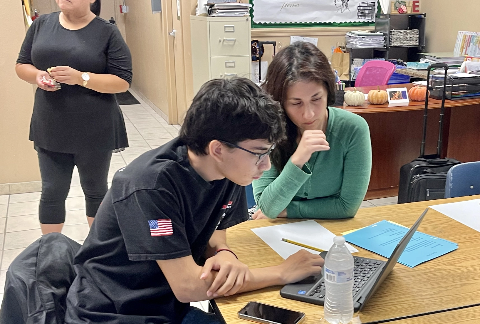 College preparation at Tucson International Academy begins in kindergarten! We are intentional in having these conversations early and often with our students and exposing them to as many opportunities as possible so they can see beyond the textbook into their future.
One way we start inspiring our students is by exposing them to and educating them about different cultures.
College Readiness Coaching
College and Career Readiness Coach
Brian Beebe
Beginning in 7th grade, our College and Career Readiness Coach, Mr. Beebe, begins meeting with students in small groups. During these sessions, Mr. Beebe helps students decide which college is right for them, and how to get admitted. He helps them understand their financial options (and how to get the most amount of financial assistance possible). Each student has a fully customized college readiness plan that fits their unique needs. This includes free ACT/SAT/PSAT prep, free access to special software Naviance, and more. Link to Naviance. Meet your College and Career Readiness Coach, Mr. Beebe
Brian Beebe served as a police officer for 12 years before becoming a business owner and real estate executive on the west coast. In 2008, Brian and his late wife Stacey immersed themselves in the world of Educational Consulting and founded a college planning firm, Your Guidance Office. This company works with high school students and their families as they navigate the road to college.
Brian is currently a Board member of Junior Achievement of Arizona and a volunteer teacher. He has taught personal finance, career, and college readiness courses in many high schools in Pima County using the J.A. curriculum. Brian is also a public speaker who has made both radio and television appearances discussing these topics.
Prior to Stacey's passing in 2017, they actively participated in a variety of community service organizations. Brian still is active in supporting his community, as well as organizations that benefit; children and youth, people with disabilities, military, law enforcement, and Christian ministries.
Brian Beebe continues to oversee the operations of Your Guidance Office. Your Guidance Office has worked with hundreds of students across the US helping them with preparing for and gaining admissions to the right fit college while saving on the costs of higher education. His students have received millions in free funding offers and have been accepted to all levels of universities.
He joined the Tucson International Academy family as a district staff member in 2021 to develop and implement programs that prepare students for college and career as well as navigating the admissions process. He has additional responsibilities in community and school systems management. Here is the link to your own special student portal.
Career Exploration Example Plan
7th and 8th Grade – 1st basic career exploration assessment available.
9th Grade – Interest Profiler Assessment and Road Trip Nation video exploration.
10th Grade – Intelligence assessment and career path recommendations including detailed data and descriptions. Explore shadowing opportunities and interview professionals in the field.
11th Grade – Deep dive into colleges or other resources and what strategic plan is the best fit for the career goals.
12th Grade – Look for employment, internships, and volunteer opportunities that are on the career path selected.
JA Inspire program available to all middle school and high school students (Exploration tools and Virtual Job Fair)
Every year, TIA brings students and teachers together from the four campuses to show the many career opportunities that await them once they graduate high school or college. They hear a keynote speech, then they have the opportunity to visit many different booths that are represented by local and national businesses. After lunch, they visit booths from a dozen different colleges.
Here are some of our past participants in the TIA College and Career Fair
Target
Costco
Arizona Public Media
R.O.T.C.
Sandovol Creative
Tucson Sheriff Department
Tucson Police Department
Tucson Airport Authority
FBI
Border Patrol
The Art Institute
ITT Technical Institute
University of Arizona
Grand Canyon University
Tucson College of Beauty
The Drawing Studio, Inc.
Embry Riddle Aeronautical University
Arizona State University
Northern Arizona University
How can you as a parent reinforce college preparedness?
Elementary Students
Parents should open up a college account that allows them to save money for their child's college education. The most important is to have a monthly or bimonthly amount automatically transferred from your personal bank account. This will prevent you from having "emergencies" that will tempt you to do otherwise.
Middle School Students
One way to address college prep at this age is for students to research careers. Students can obtain information by visiting different career fairs. Another way is for parents to take them to their places of work. This allows the student to see the hard work and experience that is needed in order to be a positive and integral part of our community.
Freshmen and Sophomore Students
Freshman and sophomore students have generated a class schedule that will fulfill the requirements for graduation and college needs. The students need to get involved in extracurricular activities. These may be chosen from an array of clubs, sports, church, and community activities, or volunteer time. It is imperative for them to have a well-rounded background for their resumes. Looking for a club? Click here to learn more about TIA Clubs.
Junior Students
Juniors should register in the fall for the PSAT in order for them to practice and get ready for the SAT, usually taken in the spring of the junior year. Remember that the SAT is accepted by major colleges and universities, and is a factor in acceptance. This is why it is preferable for students to practice on this test and take it seriously.
Senior Students
Seniors may retake the ACT or SAT once again if they want to try for a higher score as this might be their last chance. Remember that it takes time to get test results and colleges to receive the results, so you want to do this promptly. At the same time, the student should start applying for scholarships as soon as possible.
Helpful Links
for Families
College and Career Resources
University of Arizona College Scholarship Opportunity
Low income high school students in Arizona who plan to attend the University of Arizona or other state university (ASU, NAU) are eligible for up to $4,000 in scholarship money! Click here to learn more about this incredible opportunity!