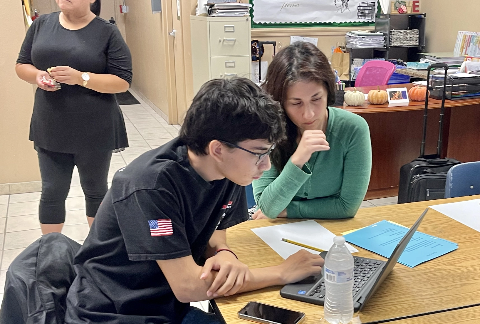 Deciding where your child goes to school is one of the most difficult decisions a parent will ever make. We want you to know you can trust us with your child. We are here to nurture them and to provide a safe space where they can learn and succeed!
Meet Our Principal
Principal Valerie Enriquez
How Principal Valerie Enriquez Broke the Trend
Have you ever wondered how your family dynamics affect your future? It used to be that financial status or even ethnicity were large contributors to what future opportunities a person could have. Now, according to a New York Times article, marriage is one of the greatest factors. The article reveals that when it comes to children born and raised in single-parent families, "a large body of research shows that they are more likely than similar children with married parents to experience childhood poverty, act up in class, become teenage parents and drop out of school." Fortunately for all of our kids at TIA's campuses, Principal Valerie Enriquez is a tremendous example of someone who has broken that trend. She shows her students that they are the ones who can determine their own destiny and not become a statistic.
Ms. Enriquez's Childhood
Ms. Enriquez was fortunate to have a gem of a mother who, although a single mom, challenged her to break the family pattern and plan her own future. "I cooked, I cleaned, I got my sister ready for school and even though my mom worked two jobs she always tried to keep me on the right track to pursue my dreams," Ms. Enriquez.
According to Child Trends, a nonprofit research center that studies children at all stages of development, 41 percent of births in the U.S. occur outside of marriage, yet only 10 percent of these births occur among people who have a college education. While 60 percent of unwed births come from persons without a college education. What that means, according to the data, is Principal Enriquez was more likely not to go to college. She was also six times more likely to become a single parent herself and repeat the trend with her own kids because she was being raised in a single-parent home!
You Determine Your Destiny
Even though all that sounds like a vicious cycle, Valerie, who had all of these challenges against her and still broke the cycle. How? She believed that you determine your destiny. As a result, she became the only person in her family to go to college. If there was a goal, she aimed for it and hit it with pinpoint accuracy. She wanted to be a teacher, which she had accomplished at only 21 years of age. In fact, on her 21st birthday, she didn't go out and celebrate the typical right of passage into adulthood (party and get wasted) but stayed home and graded papers!
Ms. Enriquez did have a lot of inspiration. Everyone in her family was involved in education. Her mom was an administrator. Her aunts and even her grandmother were lunch ladies. This inspiration was not enough though. Ms. Enriquez needed to have a passion to change her destiny. She always tells her students, "Don't let anything get in the way of your dreams." Nothing got in the way of her goals, for after she reached her goal to be a teacher, she aimed for being a principal. Under the guidance of Principal Montemayor, she opened the Midvale campus as their first principal.
"Li'l but Feisty"
There's a reason that Ms. Enriquez's nickname is "Li'l but Feisty." She fights for her goals and so far she has hit every one of them. Now, her goal is to have her K-12 students excel, pass the AIMS test, and eventually go to college. When her students say, "We can't pass the AIMS," her reply will be, "Yes you can; you ARE going to pass the AIMS."
Meet Our Staff and Teachers
Jocelyn Manzanarez (Ms. Jocelyn)
Music Teacher
As a music specialist, I am honored to provide children at Tucson International Academy the opportunity to experience all of the benefits music education offers.  I received my BA from the University of Montana in Music Education and MA in Music Education from the University of Washington. I hold a certification as a k-12 certified music educator. 
The unique piece about teaching music at TIA is that the classes are virtual and I am teaching from my office in Seattle, Washington! In our weekly musical classes we play instruments, sing, dance and most of all have fun learning through music. I feel so lucky to be a part of this amazing community of learners.
Marcella Zazueta
Teacher – Grades 2-3
I am a Tucson native. I attended and graduated from Tucson High Magnet School, where I was part of the "Marching 100" band, student-athlete, performing Folklorico dance group "Los Tucsonenses," and Mariachi Rayos Del Sol My favorite subjects are math and Spanish. After high school, I attended the University of Arizona, also Brookline College, with an Associate in Pharmacy. I am an AmeriCorps Alumni and am a member of the National Honors Society, Alpha Beta Kappa, and the National Pharmacy Technician Association. I am still involved with Folklorico dancing. I spend my free time with my husband and two dogs. We love to go camping, fishing. My favorite quote is "Success is not final; failure is not fatal: it is the COURAGE TO CONTINUE that counts." – Winston Churchill.
Alexander Salde (Mr. Alex)
Teacher - Grades 4-5
Greetings, I'm Alexander Salde, and my journey has been nothing but an adventure. With a degree in Psychology and a Teaching Diploma, I've embarked on a path that goes beyond mere profession.
Originally from the Philippines,at first I found my true calling within the diverse classrooms of Thailand. Teaching transformed into more than just a job; it became a heartfelt passion. The countless faces, each brimming with unique stories and dreams, have etched an indelible mark on my heart. From guiding primary students as they take their initial steps into the world of knowledge to empowering university-level students on the brink of their careers, I've been fortunate to be a part of their educational journeys.
My mission is clear and straightforward: to provide students with the best possible learning experiences, right here in Tucson International Academy. I invite you to join me in this educational adventure, where we strive to make the journey truly extraordinary.
Tracy Laos
Teacher – Grades 4-5
I grew up in Omaha, NE and moved to Arizona after high school to attend and graduate from ASU with a BFA. I am married and have 4 children, 3 sons and a daughter. We enjoy getting away from the Arizona heat by visiting the beach and camping in the mountains. I became an educator because I enjoy watching and assisting students gain knowledge and confidence in their abilities. I believe everyone has gifts and talents and it's a privilege to be able to witness the students realize this themselves. Quote "Educators should walk the walk and never stop learning themselves!"
Click to view or download Mrs. Laos's May 23 Spring School Newsletter
Pablo Samaniego
Teacher – Grades 6-8 ELA & SS
I am Mr. Pablo Samaniego. I was born and raised here in Tucson, AZ. I have always enjoyed sports. My favorite teams are the Arizona Diamondbacks, Phoenix Suns, and the Las Vegas Raiders. In High School, I played football and basketball. I have a small loving family, a wife, and two daughters.
As for my educational background, I attend Grand Canyon University. I did not always know what I wanted to do with my life as a career until I realized that working with children was something I enjoyed. That is when I decided to pursue my degree in teaching. I realized at an older age, however, that it is never too late, and that is what I want my students to learn and know that we must always go after our dreams.
I look forward to working with all the students and helping them build their knowledge. I want them to take what they learn and move forward to create a successful future. I am excited to have the opportunity to work with the TIA Midvale Middle School ELA & Social Studies Classes.
Roy Gorris
Teacher – Grades 8-12 Math
After finishing my high school and post-secondary adult education I was drafted into the Dutch Army. As an infantry non-commissioned officer, I often trained alongside U.S. Forces. Very impressed by their efficiency and professionalism, I decided to immigrate to the United States 24+ years ago. It did not take long before I joined the U.S. Army, not in the capacity of an infantry crew member, but in the field of aviation as it has been my passion for well over 45 years. Fast forward, multiple deployments to Iraq, Afghanistan, and South Korea just to name a few, I retired and decided to pick up my educational journey. I now have an AA, BS, and Masters in Business Administration. I am working on my second Masters in Educational Leadership. I have certificates and teaching licenses in Business (K 6 through K 12), Emerging Technologies (K 9-12), Marketing (K 9 -12), and hope to attain my State certification for Principalship (K-12). I have been with TIA now for a few years. I'm very humbled by the kindness and gratitude of the community that we are part of.
Lidalyn Salde (Ms. Lyn)
Teacher - Grades 6-8 Math & Science
I'm Mrs. Lidalyn Salde. My journey as an educator has been shaped by the vibrant cultures of the Philippines and Thailand. Having grown up in the Philippines, I carry with me the rich tapestry of experiences from a country known for its warmth, diversity, and strong sense of community.
My educational roots trace back to the Philippines, where I earned a bachelor's degree in Elementary Education with a major in General Science. This laid the foundation for my career, and I embarked on a mission to impart knowledge and inspiration to young minds.
My transition from the Philippines to Thailand has not only shaped my professional identity but has also fueled my determination to bridge cultures through education. I am thrilled to be a part of TIA as the Middle School Math and Science teacher. I look forward to the continued adventure of teaching, inspiring, and contributing to the growth of students at TIA.
Xiuqing Sun (Ms. Sun)
Chinese Teacher – All Grades & Campuses
I went to China Communication University and have a degree in Media Management. In China, I taught Chinese to foreigners before I moved to the U.S. I've been teaching Chinese at TIA since 2012. I have traveled to Thailand, Japan, Korea, China, and around the U.S. I cannot give a direct translation, but my favorite quote is something like this; "If I walk with two other people, I can learn from at least one of them." It shows humility and the willingness to learn from different people, regardless of their age, background, or beliefs.
Rosa Torres
Admin
I have been in education for 15 years. I love to be around my family, I love sports, and am a San Francisco 49ers fan. Go Niners! I am the Administrative Assistant for Midvale Campus. I started with Tucson International Academy in 2012.
I choose to work in education out of my many trades because education is a profession where I can see the impact that I am having on the world around me. I also get to grow with the students as well as the parents. As they learn, I learn too. There aren't many professions that will allow me to do that. Every day my job is to get to school and give it my all. I show them that anything and everything is possible as long as you put your mind to it. You have to be willing to learn to see success! When I was growing up, I was my mother's helper. So, helping our families comes naturally. The student's achievements are my happiness!
Lydia Fierro
NSLP Enrichment
I have worked for Tucson International Academy for 10 years! I originally started as a volunteer during their cultural fiestas, such as Chinese New Year, 16 de Septiembre, and Cinco de Mayo while my children attended Tucson International Academy as students. I eventually started helping in the office until the opportunity to be the NSLP at the Midvale Campus arrived in 2012. I have had the opportunity to make lasting relationships with my co-workers, parents, and students. It has been a pleasure to see these students grow and graduate. It brings joy to my heart!
Average Teacher Salary
Average Teacher Salary FY24: $31,200.00
Average Teacher Salary FY23: $43,333.33
Average Decrease: $12,133.33
Percentage Decrease: 28%