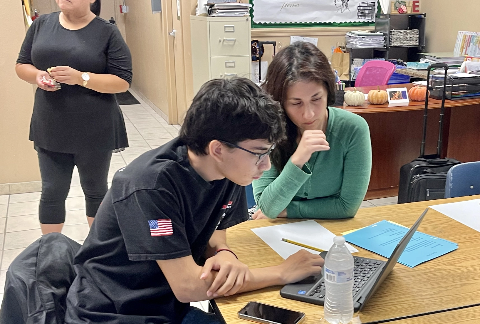 Tucson International Academy West prepares students for their future! We love helping students discover their potential and helping families navigate college acceptance and scholarship opportunities (yes, college preparedness begins in Kindergarten!).
Meet Our Principal
Principal Valerie Enriquez
How Principal Valerie Enriquez Broke the Trend
Have you ever wondered how your family dynamics affect your future? It used to be that financial status or even ethnicity were large contributors to what future opportunities a person could have. Now, according to a New York Times article, marriage is one of the greatest factors. The article reveals that when it comes to children born and raised in single-parent families, "a large body of research shows that they are more likely than similar children with married parents to experience childhood poverty, act up in class, become teenage parents and drop out of school." Fortunately for all of our kids at TIA's campuses, they have Principal Valerie Enriquez, a tremendous example of someone who has broken that trend. She shows her students that they are the ones who can determine their own destiny and not become a statistic.
Ms. Enriquez's Childhood
Ms. Enriquez was fortunate to have a gem of a mother who, although a single mom, challenged her to break the family pattern and plan her own future. "I cooked, I cleaned, I got my sister ready for school and even though my mom worked two jobs she always tried to keep me on the right track to pursue my dreams," Ms. Enriquez.
According to Child Trends, a nonprofit research center that studies children at all stages of development, 41 percent of births in the U.S. occur outside of marriage yet only 10 percent of these births occur among people who have a college education. While 60 percent of unwed births come from persons without a college education. What that means according to the data is Principal Enriquez was more likely not to go to college. She was also six times more likely to become a single parent herself and repeat the trend with her own kids because she was being raised in a single-parent home!
You Determine Your Destiny
Even though all that sounds like a vicious cycle, Valerie, who had all of these challenges against her and still broke the cycle. How? She believed that you determine your destiny. As a result, she became the only person in her family to go to college. If there was a goal, she aimed for it and hit it with pinpoint accuracy. She wanted to be a teacher, which she had accomplished at only 21 years of age. In fact, on her 21st birthday, she didn't go out and celebrate the typical right of passage into adulthood (party and get wasted) but stayed home and graded papers!
Ms. Enriquez did have a lot of inspiration. Everyone in her family was involved in education. Her mom was an administrator. Her aunts and even her grandmother were lunch ladies. This inspiration was not enough though. Ms. Enriquez needed to have a passion to change her destiny. She always tells her students, "Don't let anything get in the way of your dreams." Nothing got in the way of her goals, for after she reached her goal to be a teacher, she aimed for being a principal. Under the guidance of Principal Montemayor, she opened the Midvale campus as their first principal.
"Li'l but Feisty"
There's a reason that Ms. Enriquez's nickname is "Li'l but Feisty." She fights for her goals and so far she has hit every one of them. Now, her goal is to have her K-12 students excel, pass the AIMS test and eventually go to college. When her students say, "We can't pass the AIMS," her reply will be, "Yes you can; you ARE going to pass the AIMS."
Meet Our Staff and Teachers
Jocelyn Manzanarez (Ms. Jocelyn)
Music Teacher
As a music specialist, I am honored to provide children at Tucson International Academy the opportunity to experience all of the benefits music education offers.  I received my BA from the University of Montana in Music Education and MA in Music Education from the University of Washington. I hold a certification as a k-12 certified music educator. 
The unique piece about teaching music at TIA is that the classes are virtual and I am teaching from my office in Seattle, Washington! In our weekly musical classes we play instruments, sing, dance and most of all have fun learning through music. I feel so lucky to be a part of this amazing community of learners.
Laura Speta
Teacher – Grades K-1
Hello! My name is Ms. Laura. I am teaching Kindergarten and the 1st grade. Here is a little information about me. I have animals! A lot of animals. I have a ram, a lamb, two goats, ten chickens, and three cats. I also enjoy being outdoors. I spend most of my free time gardening and with my family, this time is very important to me. This is my first year teaching Kindergarten and the 1st grade. I am incredibly excited, and I love teaching! I have experience tutoring adults and children as well as teaching small groups. I worked in many different settings, including full-profit and non-profit organizations. I graduated with a Bachelor of Science from Park University and a Master of Science from the University of Phoenix. I also hold a few active certifications. This year I plan to return to school and work on a Ph.D. I place a lot of value on education! Pursuing a higher level of education has opened doors for me. My goal this year is to help every student see their full potential!
Luis Machado
Teacher – Grades 8
I am originally from Nogales, Sonora, Mexico. I attended and graduated from Tucson High Magnet School, where I was part of the varsity soccer team and the performing Folklorico dance group "Los Tucsonenses." My favorite subjects are math and Spanish. After high school, I attended Pima Community College and the University of Phoenix where I received my drafting degree. I have volunteered as a coach for soccer leagues and currently coaching high school soccer here in Tucson. I am still involved with Folklorico dancing and playing soccer. I spend my free time with my wife and three kids. We love to go hiking, attend UofA football games, and go camping as a family. My favorite quote is "Education is the most powerful weapon we can use to change the world." – Nelson Mandela
Click this link to view or download Mr. Machado May 16 Newsletter
Aaron Dionise
Teacher – Instructional Coach
I was born in a small town in Pennsylvania and moved to Arizona when I was very young. I attended and graduated from Rincon High School here in Tucson, Arizona. Later I continued my education and graduated from the University of Arizona. After graduating from the U of A, I went on to complete my master's degree at American Public University. While attending American Public University, I also earned a certificate of Civil War studies. Prior to teaching, I spent a number of years working in the corporate world and I have been fortunate enough to be part of the management team of various major companies, as well as start-up businesses. This experience will certainly help my students prepare not only for college but also for the working world that awaits them.
Jem Herald A. Deliarte
Teacher – Grades 9-12 ELA & SS
Using my humble beginnings as a lad who grew up in the hinterlands of the Philippines, I've gained international and global teaching experiences. I am seasoned with various sociological perspectives across diverse cultures and practices from the Philippines, Japan, and Thailand. I know that I do not need magic to change the world because I carry all the power I need inside myself already. My life mission is to inspire boundless, fertile imagination among my students and colleagues by promoting and exemplifying the universal attributes of being an effective communicator, critical thinker, and socially responsible Christian/citizen through diverse, purposeful educational endeavors on- and off-campus; educators and learners who are driven by the motto, "Carpe diem!" I impact the world by seizing every moment! As time has proven across the ever-changing seas of education, making change happens. I have confirmed that determination and imagination can get us anywhere we want. I am good at adapting to cultures, redefining norms, and bringing with me best practices from places I explored. I enjoy improving myself in every opportunity I encounter, growing, and thriving to become the best version of myself. Moreover, I can only do more to be more, ultimately for my family. I experience success in my mission when I embark on another, more challenging journey of life, bear the seal of being a Lasallian educator ever so proudly and make the future happen. Carpe diem!
Lloyd Pio Apsay
Teacher – Grades 9-12 Math & Science
To Teach Minds, Touch Hearts, and Transform Lives is what my mission is all about. Most of my students call me Teacher Lloyd. I am a science teacher who was born and raised in an archipelago of 7083 islands in the Pacific, the Philippines. I grew up in a very large and financially challenged family with five brothers and two sisters; imagine how our family struggles to attain and achieve each of our successes. At the age of 20, I already started teaching Science and Mathematics to Junior High School students in one of the private schools in the Philippines. After serving my country for two years, I decided to explore and teach in Thailand in 2018. I taught senior high school students in government schools in Thailand, worked with different nationalities, taught different subjects, and contributed and gave honor to my schools by coaching and winning various competitions, which left an important legacy to my students. This year, I decided to explore another opportunity at TIA to enhance my teaching career's growth and pursue my mission. With these experiences, I can say that I am exceptionally equipped with relevant knowledge and skills that a 21st-century teacher must possess who is ready to share this expertise with my future students. As an advocate of student development and capability enhancement, thinking critically, communicating effectively, and becoming a responsible global citizen, I can ensure my students' future is one step closer to success.
Xiuqing Sun (Ms. Sun)
Chinese Teacher – All Grades & Campuses
I went to China Communication University and have a degree in Media Management. In China, I taught Chinese to foreigners before I moved to the U.S. I've been teaching Chinese at TIA since 2012. I have traveled to Thailand, Japan, Korea, China, and around the U.S. I cannot give a direct translation, but my favorite quote is something like this; "If I walk with two other people, I can learn from at least one of them." It shows humility and the willingness to learn from different people, regardless of their age, background, or beliefs.
Denisse Leyva
Teacher – Spanish
"One language sets you in a corridor for life. Two languages open every door along the way." -Frank Smith
I whole heartily believe that learning a second language opens doors to a whole new world. A new world of friendships, travel, traditions, cultures, foods, colors, and so much more. That is why I am a proud Spanish teacher. My name is Denisse Leyva, and I was born in Sonora, Mexico. I came to live in the United States at the age of four. Spanish was my first language, but it could have been easily forgotten if it was not for my mother's insistence. She taught my sister and I the importance of never forgetting our native language. She taught us that our native language strengthens our ties with our culture and family, which I am very proud of. My biggest passions are teaching the Spanish language through music, dance, art, and food. When I am not in the classroom, I am with my family. I love long walks in the afternoon with my husband, three boys, and our dog. I am excited to continue with our adventures in the classroom.
Ron Yarter
Special Ed
My Name is Ron Yarter. I have been in Education for 28 years, I have been in student services for 16 years and coached for 25 years. I have been a teacher and coach in AZ, TX, MS, NC, and AL. I have taught SS, Sociology, Economics, Geography, Life Skills, Resource, Professional NHRA Dragracing Owner, and Business classes. I teach for the students who need the most help, those that need life coaching and help with getting organized to change their lives for the better. Go Notre Dame Gold n Blue!
Average Teacher Salary
Average Teacher Salary FY24: $34,555.56
Average Teacher Salary FY23: $40,222.22
Average Decrease: $5,666.66
Percentage Decrease: 14.08%