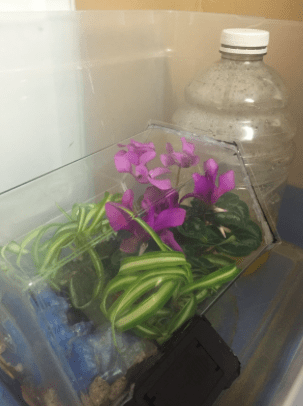 Are you a "kinesthetic" learner? That is, one who learns and retains more information by doing and participating in hands-on tasks? If so, Mr. Gabriel Montemayor's science class is the place for you! Mr. Montemayor doesn't just teach science; he actually helps students learn how to learn as he teaches them how to approach problems from a myriad of perspectives. He also opens up the concept that learning can be enjoyable, entertaining and amusing. Having a hard time picturing school as fun? Just look at some of the amazing science projects students have been working on in Mr. Montemayor's classes! You can also view videos of some of these projects on Tucson International Academy's YouTube channel!
Self-Sustaining Biodomes
This project was a little tricky, but the students rose to the task and learned a lot about earth science in the process. The students made their biodomes out of  two connected  plastic bottles. Each biodome needed to contain an aquarium section and a terrarium section. It also needed to house living organisms such as a fish, plants or an insect. Some students quickly learned that if they failed to place enough aquatic plants to produce oxygen in the aquarium section, it proved to be a death sentence for their enclosed fish! The students were amazed to see however how the aquarium could provide the condensed moisture to "rain" on the terrarium section. Mr. Montemayor would love to follow up this project with a field trip to the Biosphere 2 in Oracle, AZ as a way to expose his students to self-sustaining biodomes on a grand scale!
3D Topographic Maps
The objective of this project was to introduce students to contour mapping which helped the students to look at a flat, two dimensional contour map and be able to visualize what it would look like in 3 dimensions. Using sheets of cardboard, students first built up the topography to resemble mountains, valleys, river beds, and hills. They then covered their work with paper mache, which helped the 3D map to look more like a miniature version of the place they were designing. Painting their creation brought the whole thing to life! Several students recreated an actual place, such as Mt. Everest, while others created their own mountainous world.
Weights and Windmills
The weights and windmills project was a little more competitive. Using pulleys and wind-catching propellers, the students competed to see whose design could lift the most weight in quarters in the fastest amount of time. Using lids or heavy construction paper for the propellers, plus pencils and strings, the students designed simple machines.  Surprisingly some of the designed windmills could lift up to 12 quarters while others maxed out at only 4! Through trial and error, the students learned  how small changes in the designs impacted the effectiveness of each machine.
Link to Part II: More Amazing Science Projects
Want your child to attend a school where they learn
how to learn?
Look into enrolling them at Tucson International Academy online!